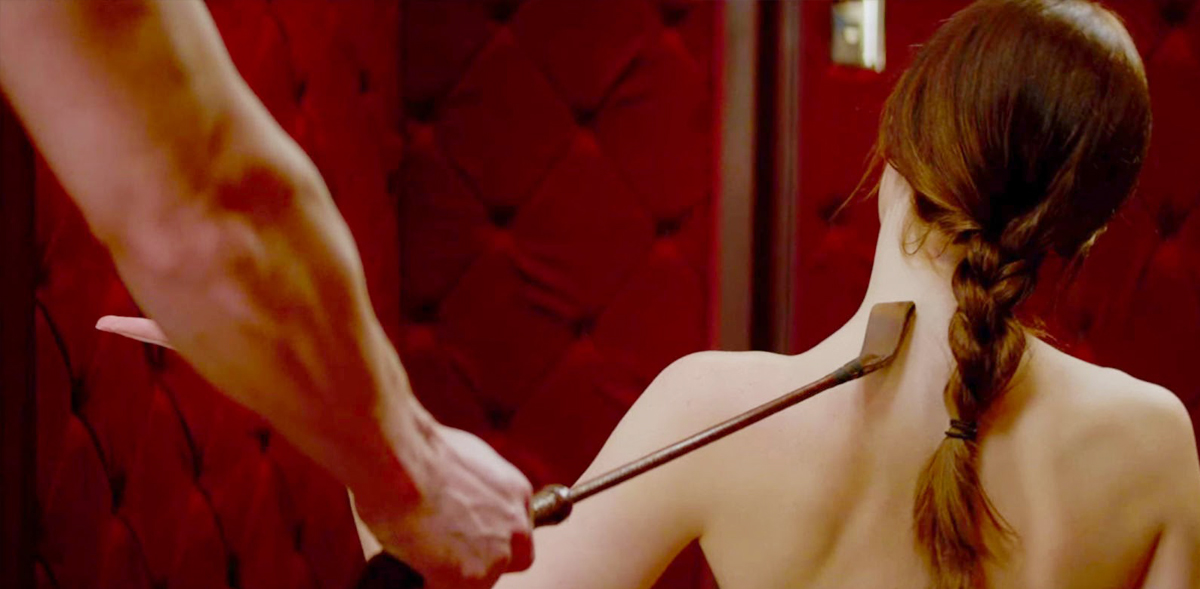 Anyone familiar with my original thoughts on 50 Shades of Grey will likely not find this supplemental rant much of a surprise, but I suppose it's necessary, being who I am, to say something. After all, it would be irresponsible of me to avoid commentary on a subject that hits so close to home (or as close as it can, at least) on the silver screen. So, begrudgingly, I dragged myself to the theater to see the movie adaptation directed by Sam Taylor-Johnson, starring Jamie Dornan as Christian Grey and Dakota Johnson as Anastasia Steele.
I laughed, I winced, and shook my head in mild annoyance over the neutered and underwhelming spectacle before me. When the movie ended, I wondered how many people in the theater found it to be little more than a flat, safe, sterile, PG-13-like buzz kill. Afterward, I put my thoughts to keyboard, struggling with what I should title this commentary. 50 Shades of Fail? Not-a-True-Dominant: The Movie? Or how about Rich and Kinky Boy-Faced Beta Male Tries to Seduce a Smug, Temperamental Virgin? It was quite a conflict.
I finally settled on Christian Grey: The Disneyland Dom, for I think that among the movie's many flawed premises, the one that irks me the most is the inadvertent message that women might be interested in male domination…permitting you're a hot Armani-suited billionaire. While I'm happy to see the subject of consensual female submission going mainstream, I feel the idea of it, as conceived in this tale, is tied too closely to the mystique of wealth and bling. If we strip away Christian Grey's expensive raiment, his luxuriant urban address, his stable of exotic sports cars, his private helicopter, and above all, his top notch "red room" that would make any professional dominatrix drool, what remains? Beyond image, where in this film is Christian Grey really dominant at all, aside from the entitlements afforded him through money? We see him chasing after Anastasia Steele, a woman who, despite her waking desires, repeatedly denies him (a common romantic cliché). In the wake of her rejections and sarcastic remarks, he chases her like a cross between a stalker, a wounded puppy, and a well dressed front-door salesman. And yet he dramatically avoids her at all the wrong moments. In many ways, this man acted like der uber jerken, getting up and abandoning her when he should have enriched their bond, shutting her out when sharing would have maximized intimacy, and wallowing in his own self-pity over a shiny piano while she stands half naked, a foot away. Which brings me to my next peeve.
Second in my list of grievances about the film (but just barely so) is the absolutely dysfunctional portrayal of male dominance we are subjected to, over and over. I understand that a story needs a conflict and that stories serve more as entertainment than enlightenment, but as I originally lamented regarding E. L. James' trilogy, 50 Shades the movie had an opportunity to present the D in D/s in a more positive light—to show the world that you don't have to be an emotionally (and psychically) scarred person to partake in these things. We are left, especially at the gloomy end of the first film, not only assuming that Christian's interest in D/s directly and unequivocally stems from his dysfunction and romantic ineptness, but also feeling like that man is a bit of a wimp and pushover.
Segue to peeve three: Sassy Steele's domineering and passive-aggressive vibe is tiresomely obvious throughout the film. So obvious, in fact, that no self-respecting dominant male I know of (real dominant men, mind you) would put up with her sneers, snide remarks, eye rolling, and condescending jabs. It's here where I see the usual girl power scripting of Hollywood, likely uncomfortable with the subject matter to begin with, tinkering more than a little with her character to make her "hipper" and more palatable to the public's genteel standards. Anatasia's character was a little playful and opinionated in the books, though she was also naive and subdued. The movie made her much more bold and sarcastic, bordering on hostile, but I certainly didn't find myself surprised in the least about that. I honestly don't think anyone churning out films from major studios today is capable of presenting a woman as anything but strong and sassy (and I'll add domineering, while I'm at it).
This presents a problem with the portrayal of submission for the D/s-illiterate yet nonetheless intrigued female viewers. Ana is not just a brat or a typical SAM (Smart Assed Masochist): she is disrespectful, dramatic, passive-aggressive, and tries her best to be as unimpressed as possible with her seducer throughout the film. Granted, Ana is what they call "vanilla" in BDSM terms. With that in mind, many of her lame reactions to lame dominance were plausible (even if her twenties-ish virginity isn't). Still, her contentiousness doesn't set a very good example at all for impressionable women who are on the cusp of taking marginal interest in this way of life. Women drawn in from the 50 Shades Effect who make the mistake of approaching authentically dominant men as their personal Christian Greys (it has already happened to me, and more than once, I'm sad to report) will likely have a very rude awakening when the face of mommy porn meets the concrete of reality.
But the movie isn't all bad. For BDSM 101, the film did well with respect to consent, negotiation, and safe words. The War and Peace sized contract scene conveyed, at least, the detailed consent of kinky play partners. It took great pains, in fact, to inform the novice yet curious public that these interactions are based upon consent. Zooming out to see the big picture, the 50 Shades Effect helped to bring BDSM—and, to some degree, D/s—into mainstream discussion. This helps to "normalize" D/s a little more in our culture and foster an environment where more men and women can at least consider the idea of dominance and submission as something other than shameful and pathological interactions between deviant adults.
But normalizing D/s for the general public's consumption might only swap out the old canards with new ones. It remains to be seen what effect E. L. James' trendy story-made-movie will have on mainstream views regarding actual dominance and submission. Aside of being annoyed at how much of a cheesy cartoon D/s may now be in the eyes of some, my real concern is that instead of accepting the deeper and wider practices of our world, there will be a polarization between what's deemed good and bad D/s, where a gamut of consumable acts and ideas are sanctioned and others remain stigmatized. In other words, some progress toward wider acceptance, but otherwise business as usual.