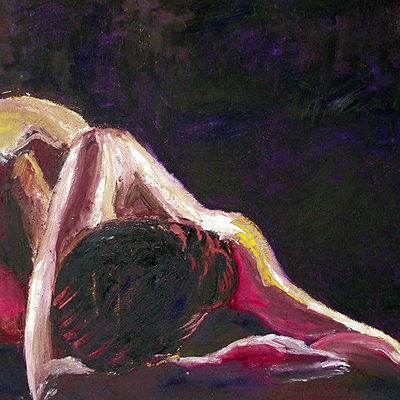 Like many I have encountered here on Humbled Females, my first foray with D/s was through what we call the BDSM community. I had harbored submissive inclinations from an early age, but kept them to myself due, mostly, to confusion and shame. As a young adult in the earlier years of the Internet, I inevitably found online versions of the BDSM world: I was thrilled and relieved that there were others I thought to be like myself! I finally had words like "submissive" and "masochistic" to label personal qualities that had been so confusing to me as I navigated my early days. I had the word "dominant" to describe the type of man to whom I was attracted. I was at last encountering men who wanted to treat me in the very ways I had desired and fantasized about for years.
The online world quickly led to in-person connections. I became part of the local BDSM community group, which was still unique and relatively rare at that time in the 1990's. I experienced my first enslavement at the age of 26 to a master much older than myself. Though my first master was also part of the local BDSM culture, we were never part of its "scene." He was a traditional man who didn't seek out the limelight or the social spotlight, save for an occasional outing on a weekend to change things up. Mostly, he kept me in his apartment for sex, beatings, and domestic service, and I was quite happy to serve him this way.
The relationship ended when he decided to resume a relationship with a former slave, closer to his own age and background, which resulted in their marriage. I was cast aside. And, I was lost on my own. Going from slave to not-slave is an experience I wouldn't wish on any girl, ever. To fill the void left by my former master, I clung to what I had left: online and local BDSM. I didn't understand all the reasons for it at the time, but being without a man and being adrift in the BDSM community started a prolonged period of alienation and decline that eventually led to my abandoning D/s altogether: I hid inside a vanilla marriage for years starting in the early 2000's. Having formerly belonged to a very traditional and dominant man, it was quite disheartening to encounter and try to have authentic relationships with the often shallow, disingenuous people I found in the BDSM world.
But during that intermediary time when I still clung to hollow BDSM, the men with whom I attempted relationships fell into two categories: complete fakes or anything-goes fetishists. Some used the surface aspects of BDSM to gain attention and popularity within the community, feigning dominance in the public and virtual eye, using all the right words, and having all the cheap leather trappings from the local adult gift store to polish their facades. But behind closed doors they were a complete sham. After one particularly bad relationship, I stopped seeking a "master" and thought I should look for a more traditional relationship. But in these relationships, I encountered those who were only interested in bedroom antics, and realized understanding of and enthusiasm for real dominance was pretty anemic. The boyfriend who decided to surprise me by wearing pink satin panties was one of the very last nails in the coffin. Enough said about that.
The angst of those years was exacerbated by the dysfunction of the local BDSM community. They catered to the shallow relationships that were driving me away from D/s. And their supposed focus on "education" was a thin disguise for a lack of vision and fixating on sexual fetishes. Another personal turning point was attending a meeting that culminated in a man being encased and sealed in various forms of plastic. I remember vividly thinking during all of this that I had very little in common with the people around me. I wanted to be consumed and controlled by a man in all the primal and unrelenting ways men have used women since the dawn of time. And I knew that had nothing to do with the man being vacuum sealed in front of me, or the one who had a fetish for corsets, or yet another who had a specific, compartmentalized thing for paddling women's bottoms with particular implements. 
And when I finally could not take it any longer, my desire was certainly not to find my way back into the BDSM community: I still felt the distance from them that had driven me away from all this. Instead, my urge was to find an authentically dominant man—a man who really had a taste for subjugating a woman and who didn't see it as a collection of fetish acts.
Throughout the course of my searching in that latter wave of the bedroom-only relationships, I finally met an older, slightly traditional man who liked light D/s. At first, it was decent. He treated me kindly, and it all felt good enough at the time, given the ordeals I had experienced. And so I stepped away from D/s altogether. I slammed the door shut on my past and hid inside an otherwise vanilla relationship and marriage for nearly 14 years. It's of no surprise to me now that it didn't work. I spent years in my marriage feeling my submission clawing at my insides, wanting that deep feeling of subjugation to a man. The dysfunction within myself and the relationship only increased as time passed. And when I finally could not take it any longer, my desire was certainly not to find my way back into the BDSM community: I still felt the distance from them that had driven me away from all this. Instead, my urge was to find an authentically dominant man—a man who really had a taste for subjugating a woman and who didn't see it as a collection of fetish acts.
At the time I exited the BDSM world, social media had not yet taken off (much less among D/s practitioners), so when I was introduced to large online BDSM communities, I naively assumed the doors of understanding had just flung open to me. I was thrilled to find others I thought were like myself. But within a short while, reality set in and it all started coming back to me: the shallowness of BDSM, the lack of real vision and genuine desire, the disingenuous people, the petty politics, and the popularity games. Even worse, I encountered some of the worst by-products of the Internet in the BDSM world: rampant cult-of-personality types, egotistical submissives, supposedly "unsubmissive slaves," etc. All of them claimed to practice serious D/s, but that was a claim easily questioned by anyone observant and thoughtful. It wasn't long before the disagreements and attacks ensued. My list of blocked people on one network goes back to my first week on the site. I eventually huddled in a small corner there with a handful of trusted friends. And one day, one of those friends suggested I look into Humbled Females.
Humbled Females quickly drew me in because it is so distinctly and unrepentantly focused on the raw motives and truths of male dominance and female submission, as impolite as they may be to modern sensibilities. In comparison, I quickly found the authenticity lacking in all other places I'd searched before. And, as I spend more time here, I see an ongoing mixed reaction from newcomers. Some seem to quickly have that same sense of homecoming I felt when discovering Humbled Females, whereas others are visibly shocked and sometimes estranged by the approach here that is so different from what they have absorbed in the venues of popular D/s culture.
Divergence from Mainstream D/s
As a female, I recognize submissiveness as a set of inborn psychological, sexual, and social reactions to dominant men. Male dominance and female submission seem to be primal, ancient responses between the sexes. In short, I know I was born this way. While many in BDSM live with the mindset that dominance and submission are "roles" that people step into, one sobering life-event away from falling to the wayside, being submissive is simply how I relate to men. I am not their equal, nor do I desire to try. To be female is to be submissive and best suited to be tethered to a man in life. It took some time. But I eventually understood that my compulsions on this front have far more to do with socially outdated, archaic relations between the sexes than with the "kink community." Given my instinct to live under a man in all ways possible, I was never going to mesh with the fervently egalitarian and fetish-based approach of the BDSM world. Though I am thankful for the toehold that BDSM was, having brought me to where I am, the parting of ways was inevitable.
At Humbled Females, I have found a refuge filled with the simple truth: men are dominant and females are submissive. The community simply does not entertain anything otherwise. And this directional departure from the anything-goes mindset of BDSM was exactly where my own path diverged. I found others who shared my strong concerns about how contemporary social engineering has gutted heterosexual relationships and D/s culture in general. And where I never felt that being submissive was by choice, I found a community that does not ascribe to the concept of egalitarianism or the fantasy concept of authority transfer. The power asymmetry between males and females that is so natural to me is simply accepted and not maligned to appease politically correct thinking. The spirit of Humbled Females maps almost identically to my first compulsions toward males from a very young age.
On the Goodness of Men
As a female who loves men, the negative and conspiratorial lens of feminism that mainstream D/s applies to the heterosexual male is counter-intuitive. Free of the distorted social views, here we talk about the goodness of traditional, heterosexual relationships and are able to move forward with that as a cornerstone. There is not an exhaustive effort put into whitewashing all discussions to be able to encompass everyone and, therefore, be relevant to no one, and it has been with relief that I found a community that rebukes contemporary feminism and the blind eye it turns to the defamation of men. For as long as I may live, as a heterosexual submissive female, I will never understand why other women in D/s allow the poison of feminism to go unchecked as it undercuts the authority of the very men we all supposedly serve and adore. Instead, Humbled Females lauds the traits and accomplishments of men. And in doing so, my desire to be tethered to a man exists positively, absent of shame, as the concept of a "man" is a virtuous, if not naturalistically authoritative one.
Male authority in the larger world and over women, in particular, is viewed as beneficial and innate. We acknowledge that such power exists due to its time-tested merits and persists due to the stability and improvement it brings to those it touches. As I have seen expressed by other females on a similar path, when left to rely upon my own capacities in life, either I forged brittle facades of faked competence or I spiraled into dark emotional places void of hope. With a biology that affords Him more mental clarity and foresight, my Master has guided me so seamlessly past various delusions and crises to where it is only in looking back, after the reaching the other shore, that I realize how expertly He maneuvered me through the emotional and social disarray. Through experiencing the tangible, identifiable ways in which He has uplifted me, I can now view the larger male predilections to control and form females into what they desire as preferable and inevitable. Because He is a man, imbued with the capacity to better those around Him and generate goodness into the world, I want to exist as a reflection of His will. He molds my body, my behaviors, my very thoughts. And these transformations have passed happily on my end as I've seen myself evolve into a different creature, one sculpted by a virtuous man. Everything about this feels right to me, even if I'm told by surrounding society that it's wrong to think and feel this way. And mainstream D/s falls decidedly short on this point as it refuses to acknowledge any correlation between the very sex of a man and His capacities to improve the world around him.
Female Education and Re-Education
Females in conscious, male-led relationships are given the redirection they need to discourage the egotistical and controlling behaviors they are permitted in other environments. Over the course of time, I've come to feel that the Humbled Females approach to modern females might be the harshest reality for new girls to accept when entering the community. The permissions and entitlement feminism has imported into D/s culture has generally turned women into monsters in need of taming, much like elsewhere in society. It is not presumed on this website that females exist in a perfect state of humility or that we can even maintain such a condition by our own perseverance. However, it is assumed that we will strive to improve, follow the men who inspire us, absorb with an open heart the lessons that deepen submission and make it an overtone to our lives. "Humbled" is an idyllic goal, the perfect state I know I will never reach as a flawed creature. Nevertheless, it is the objective and submission is the path. In many ways, this educational environment on Humbled Females seems a larger version of what I have sought in my own life: to be molded and to allow myself to be molded into something better for a man. I still remember the true excitement I felt when first reading the forums here to find other girls actively working to become more submissive and thus better servants for their men. And through the heartfelt discussions and positive examples here on Humbled Females, I have learned and hopefully developed into something better than what I was before.
This environment fills the void that I felt in other communities. It is more meaningful to seek a comprehensive submission that extends past bedroom walls and leisure pursuits to extend into the very fabric of our thoughts, relationships, and daily lives. And while nearly all females I've encountered in overt D/s recognize the superiority and goodness of their particular (or potential) man, it is a different level of acquiescence that allows us to extend this towards men in the aggregate and to behave in ways that display respect towards them and personal humility even in the disembodied world of the Internet. Unlike mainstream D/s venues where "submissive" rarely extends past specific, compartmentalized aspects of their lives, I saw quickly that females here are encouraged to recognize the distortions social engineering has encouraged in us as a group. Here, we are pressed to interact and represent ourselves in ways that show politeness, grace, deference, and a willingness to be taught across a full spectrum of environments and interactions. All of this stands in striking contrast to the argumentative and defensive D/s environments outside of Humbled Females.
More Amish than Fetish (and real life is not a fetish event)
With the heartfelt efforts at Humbled Females to give space to the natural, healthy attributes of men and women, it is now of little surprise to me that it's comprised of others who live as openly and authentically as society allows. Here I do not see dominance and submission compartmentalized in safe corners of people's lives. Nor is consideration given to the pomp and ceremony that surrounds BDSM culture. My longstanding perception of myself is that my ideal life has more in common with outdated, patriarchal, closed religious communities than with canned "kink" events. Certainly, not everyone here is on my exact part of the spectrum. Regardless, I feel we share such a primal approach to heterosexual relations that is so archaic as to be subversive by contemporary standards. And while modern social pressures may never allow for the full and open expression of many of the ongoing practices in our lives, we exist as overtly as possible, likely always seeming slightly odd to an astute outsider.
Master keeps me under a state of control that speaks to levels of emotional, sexual, and social authority far more prolific and unforgiving than egalitarian based D/s can muster, and far more aligned with the patriarchal control of females we associate with times past and even non-western cultures. As a slave, my life is isolated and cloistered. Day-to-day, I exist in a state of deliberate shackling to my Master. The isolation goes well beyond the feeble "I need permission to…" mentality of BDSM. My mannerisms, both private and public, are manifestations of deference. In His home, I serve Him in the domestic ways females traditionally support their men. If I fail in any of these things, such as acting out of line, creating food He doesn't like, forgetting to clean something…He'll beat me. And the list goes on, full of austere practices and self-effacing, often timorous behaviors probably not seen on a larger scale in western culture for more than 100 years. Sexually I am not indulged or latently serviced by Him as is so common in BDSM relationships. I may long for Him, ache to spread my legs for Him. But it is only when He wants and how He wants…..if He even wants to use me instead of another. All sexual power resides with Him, rendering me enslaved in ways that openly conflict with the mainstream fixation on female gratification. Emotionally and psychologically, I am more than metaphorically wrapped around His finger. I have been re-conditioned and re-mapped with Him as the source of all things. Those with more compartmentalized D/s have labeled me "brainwashed" and "doormat" many times. To outsiders, I suppose the lack of self-protection is off-putting, and worshipping a man is idolatrous. Still, there is no safety net for me and no hidden, internal barrier of final refuge. If Master were gone, if He no longer wanted me, I would simply fall apart on levels others would deem clinical.
Because these ideas were not socially palatable, I spent a great many years feeling shame and hiding these views later even within the BDSM world.
On Privacy: Sometimes Revealing Less is More
Over the course of time in D/s culture, I have come to appreciate that restraint in sharing intimate details tends to be a clue about personal authenticity. In other social media corners, there is a level of over-sharing and ostentation, especially about sexual details, that reveals a misunderstanding of authentic D/s and parades itself as over-compensation for what is missing. The levels of control and domination that I experience in my everyday life are beyond the scope that can be accepted easily by outsiders. Some things are so intimate and personal that they can only be between my Master and myself. Contrary to the share-all culture of social media today, I'm kept from describing my life in too much detail, and there are good reasons for this. While the way I live under Him is quite consensual, the reality of it can make others uncomfortable, including many within the broader D/s mainstream, which often vilifies practices that might seem too extreme or abusive. And from prior personal experiences about sharing "too much," I suspect people might take it upon themselves to question my decision-making capacities, and by extension, Master's character, if they were privy to more intimate details about the relationship.
There are, of course, discussions to which I contribute on Humbled Females that provide necessary personal details in their appropriate contexts. It's my experience that the people within the Humbled Females community understand and respect the need for privacy where is comes to certain details. There isn't the feeling of an alt lifestyle monolith watching over those who live this way of life, maligning any real male power through its thought policing and political correctness, turning what we do more into a kinky game while at the same time encouraging insolence and egocentrism in females. At Humbled Females, men are not browbeaten for their total dominion over their women. Females and also other men do not question the authority a man has over his girl. And here I am not cozily maligned as a "doormat" for my compliance or adoration of my Master…not that there really is anything wrong with being His doormat.
Men are More, Women are Less: The Relief of Just Being
As a young girl, I remember instinctively knowing that men were generally more powerful than me. And what's more, I wanted them to exercise that power over me. I wanted to vividly feel my own weakness and subjugation, if not insignificance. But I grew up in the shadows of feminism and was schooled to believe that I should not think such things. Because these ideas were not socially palatable, I spent a great many years feeling shame and hiding these views later even within the BDSM world. It wasn't until I encountered the idea of male supremacy as a way of life that I was able to find peace with what I am (and am not). So it was with relief that I found Humbled Females, where inequality between the sexes is understood openly and rationally on a collective level. Some would be uneasy knowing the real-life details of how Master interacts with me as a lesser being. It is unique, based on what I have encountered elsewhere, to find a shared outlook where these practices are accepted as a relationship foundation and are not criticized in order to parrot modern ideals of equality between the sexes. As a female, I know I am less than Master as a man. I deserve less. And I receive less. I do not struggle against the reality. In truth, it is a relief to live in such a fashion as it brings the peace of knowing I live in my full capacity. And in the Humbled Females environment, I can say such things and discuss them as unquestioned cornerstones of my enslavement rather than putting out fruitless efforts to defend myself and my relationship.
Androcentric Worldview
Once upon a time, in a pre-feminist time, focusing on men, their qualities, and achievements, was the way of the world. Now, it requires a specific platform to encounter a pro-male perspective. As an enslaved female, my mindset is concentrated on my Master. I admire His personal attributes and character so much that I deeply wanted to serve Him and need to continue serving Him for my own happiness. And I mince no words when I speak of venerating Him. This pronounced focus on one's man and the outright adoration of masculine qualities expresses itself on Humbled Females without undue criticism or naysaying from others. This stands in stark contrast to mainstream D/s culture which is typically submissive-centric, focused on the female's personal journey of fulfillment, and often dismissive of the importance of the man. This is not to say that the Humbled Females path does not aid females on our journey to happiness. But it is openly understood here that, by the very nature of these relationships, men are the path to happiness. And, as females, we are cultivated into devoted servants and auxiliary extensions of their will.
The self-made man walks his own path and exudes his own charisma, the very things that make females swoon.
The Self-Made Man
In my Master, I have encountered the epitome of a man who has forged His own path in life and ordered His world to bend to His wishes. His deliberateness and personal clarity were some of the qualities that left me aching for more very early on. I had encountered enough milquetoasts to understand the difference between them and the authentic, self-knowing dominance exuded by my Master. This same masculine course of personal discernment permeates and is openly cultivated in the Humbled Females milieu among other genuine men. I see those who are self-actualized in their dominance rather than following the template of others. This is a departure from mainstream BDSM which tends to fall in line with fantasy models and collective social mentalities. Self-actualized men have unapologetically followed their own personal paths and developed their own personal styles of dominance. They do not rely upon the prescriptions or fantasies of others. While they might express some similarities and reflections of their own vision, for instance, in fictional works, their worldview is still their own. Equally, they have not succumbed to the political correctness that has infested mainstream D/s. The self-made man walks his own path and exudes his own charisma, the very things that make females swoon.
Female Mindfulness
Being mindful of myself as a female, my tendencies and shortcomings, is the corresponding aspect of my life I must do my best to manage while serving a charismatic, superior man. Ego suppression and, ideally, ego erasure are ongoing efforts that play out in the everyday details of my life and interactions with my Master. Subtly and overtly, He reinforces each day that I am less than Him, lower than Him, weaker than Him. I do not willingly rally against this. Instead, I try to root out those places of resistance where my ego pushes against Him. Here in the safety of Humbled Females, the eye towards male authority allows these efforts to be more deeply understood and encouraged. And this point, I feel, cannot even be seen as divergent from BDSM as the latter is completely vacuous on the subject. Mainstream D/s tends so strongly toward submissive female indulgence and self-gratification that the concepts of putting the man first and striving for personal ego loss are simply absent.
What Dare not Speak its Name: Female Inferiority
The model of the self-actualized man and mindful humbled female segues so easily into the concepts of male ascendancy and female inferiority that the very discussion may seem redundant. But the ideas are so basic that they must be explored in their own right for how they contribute to individual relationships and community interactions. While these concepts define my personal understanding of life and fulfilling heterosexual relationships, they are essentially taboo in BDSM culture. Most expressions of them exist in quiet, fringe corners of mainstream venues. Any attempted forays into larger environments are shut down by those regurgitating politically correct dogma. And as a believer in male supremacy, I have been shown the proverbial door on more than one occasion when attempting to speak my mind in these forums, but on Humbled Females, these ideas exist, and are open to discussion. Not all who contribute are dyed-in-the-wool male supremacists, of course, but the idea isn't a pariah, either. In addition to being part of many of the relationships here, the very concept of female inferiority, is, on some level, inevitable in community discussions, bringing with it a civility and ability to move forward intellectually that is altogether absent in mainstream D/s discussion. The even-keel nature of male leadership permeates the environment. Females are socially deferential and encouraged to actively engage in the leadership and teachings of our men. And both sexes root out the cultural poisonings that keep so many from fulfilling lives.
Like others here with very traditional views on the sexes, my private life has many of the hallmarks of what outsiders would consider antiquated practices. Where the BDSM world is obsessed with appearing contemporary and bending its very nature to contort to modern gender politics, I am unrepentant in being the opposite. My view of females as empty vessels awaiting a man to fulfill us is outright heresy in mainstream D/s. As a female, a creature of lesser stance, I serve the man who has taken me under His wing. Without Him, I can admit that I have very little sense of self or purpose. So, I labor to make His life better, as females have traditionally done for their men, to stay in His good graces. I clean His home. I cook His meals. My financial gains go to Him. My body is used as He likes. I attempt to be pleasing and conversational when He wishes. And I do my best to be invisible when He has no use or desire for me. I absorb His kindness and His malice. On my best days, I embrace all of this. And on my worst days, I simply endure. But there is never a question of it not happening. And I cling to being able and allowed to do these things because, just as other females have experienced through the long arc of human history, I know my life has meaning and is improved in being tethered to a man.
So if you've happened into the Humbled Females sphere, there's a good chance that you, too, also found this world through the toehold of BDSM. You likely came here looking for more, understanding that your deeper drives aren't represented in the mainstream D/s mentality and its venues. Maybe you are among those who see an instant reflection of their values here. But even if the conversations and ethos seem slightly foreign at first, even contrary to what you have encountered elsewhere, remember what brought you here in the first place. While I often think of the essence of Humbled Females as an evolution past BDSM, much more so it is a return to form for the sexes. BDSM is a blip on the cultural map awaiting one large society-changing event to fall completely by the wayside. But here, we have re-discovered the ancient traditions and alignments between men and women that span the trajectory of history—timeless, and resilient to the whims of human meddling.