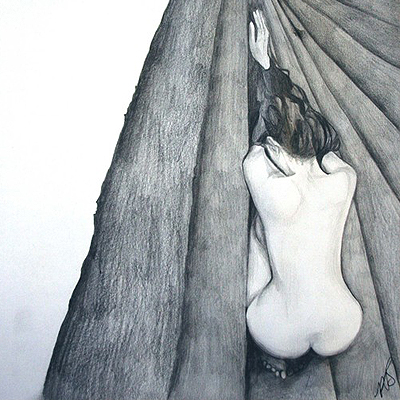 Who This Is For
You sincerely wanted to be possessed by a man, not just by any man but by a strong, dominant man you could admire, respect, and even worship. So you ratcheted up your courage and approached such a man when he became visible to you, understanding that if you didn't, you might never meet him—or anyone as good as him—as he's likely not the type who chases women down. And, to your joy and gratification, he responded to you, he took your desire to get to know him and possibly serve him seriously. Now, while not "his" yet, you are beginning an exploration with him, or, as he puts it, you are "under his observation."
So what happens next? You've won the prize, right? You've been accepted by the man of your dreams, you've done one of the hardest things in your life by approaching him first, and now all should be smooth sailing from here on end, particularly as he begins to realize, in turn, how much of a prize you are and how he wants and needs you. Well, maybe. In the heady rush of the start of a new relationship, many a submissive woman forgets that the hardest part is not over. She makes the fatal mistake of seeing this new relationship, perhaps with the first strong, dominant man she has ever encountered, as just like any other relationship: he'll shortly fall in love with her beauty and purity or, at very least, become entranced with her feminine charms, while she just sits back and enjoys the romance, letting him drive.
What many a woman with submissive ideals who has become used to wrapping men around her little finger forgets is that a genuinely dominant man will expect a lot more from her than any other male she's encountered. She hasn't won anything at this early point in the relationship. In fact, she's just begun a long and arduous climb up a hill of his making, a hill designed to test her mettle and determine whether she has what it takes to serve him truly and well.
This article talks a bit about the nature of climbing the hill of a strong man's approval. It reviews the typical steps one must surmount in this climb, and also what might ultimately await both the truly devoted woman and the one who just imagines, out of vanity, that she is devoted, at each step up the path. Dominant men who are looking for information on how to judge the characters of submissive women might also find this article of use.
Who This is Not For
Every relationship is different, and some of us never encounter or even want to encounter a strict taskmaster, someone who we  know will enforce our obedience. Some women want a softer, gentler, more loving man: someone who dotes upon her, builds her up, and praises her rather than one who demands a great deal, expects near-perfect obedience, and uses her primarily for his own benefit and pleasure. Many a  submissive woman desires a daddy or at least a kindly "facilitator" to selflessly help her actualize herself far beyond what she could accomplish on her own: someone who will see her as far more than "merely" his female servant. If this describes you, that is fine, you should seek what it is you need, but this particular article probably isn't for you, as the sort of man I will be describing in it is not the man you're looking for.
But if you do have a craving to be completely controlled, owned like property, and used in whatever way a man might want to use you, you're going to find that convincing such man that you have both a lasting desire for this extreme level of servitude and the ability to handle it is going to take some doing. To be quite frank, such a man has seen every type of female phony, every sort of cop-out and game, every possible demonstration of laziness, resentfulness, deceit, and pure feminine malevolence that exists, and he's going to be quite hard to convince that you are not also of the same low quality of woman he has encountered in the past.
She should also consider that, unlike other relationships she may have had, she is the one who is going to be required to jump through hoops and "bow before awesomeness," not him.
Paradoxically, men like this tend to be deeply attractive to the type of woman they abhor: an overly romantic, self-indulgent and utterly vain female who likes a "dark and mysterious" type because of how cool being with him makes her look. This sort of woman, however, instead of having a sincere desire to find out what such a man is really like, what he thinks and dreams, what he's going to want from her, and whether she can serve him loyally and well, uses him as a prop in her "All About Me" drama. In her eyes, he's just there to make her look and feel good. She projects her often self-serving and vain fantasies about her ideal romantic man onto a very inappropriate target and then becomes enraged or resentful when he doesn't slot neatly into her leading man role; when he doesn't fall madly in love with her in the time frame she thinks appropriate; when he doesn't seem to care over much about her goals, passions, obsessions, or desires beyond where they enhance serving him; when he doesn't do the typical guy things such as bringing her presents, initiating contact with her, liking her more than she likes him,
ad nauseam
. To garner the attention of such a man many a stubborn woman (despite being insulted by having to do this) pretends to be something very different from what she actually is: she pretends to prostrate herself at his doorstep and to be sincerely seeking to make him the center of her life. But he has ways of discovering such deceptions and, while I will talk about these methods later, the primary reason for doing so is to reassure those of you who are sincere that this slow, careful, methodical evaluation of you is not personal. It doesn't mean he doesn't like you. It just means he has to be careful because he's been burned so many times before. So let's look at what's involved in climbing the stairway of such a man's approval.
Ground Zero
Imagine yourself at the foot of a tall hill. Look around you. Is this a strong sturdy hill perhaps with a granite core that will not cave in or give way as you climb it? Or is it a weak, sandy knob, that gives and slips immediately as your footsteps imprint themselves upon it, causing you to slide back down to the bottom? When speaking of this hill, I'm talking metaphorically about the man a woman chooses to serve. Many a woman who thinks she wants to serve deeply or even be a slave makes the fatal mistake of insisting that the man she serves be controllable by her in various ways. Rather than leaving herself completely open to a strong man, she'll insist that he be of a certain age or (this is a biggie) that he be monogamous, devoted only to her and not free to see other women or take other slaves as he pleases. She may insist that he be of the same religious persuasion or political party as she is or that he not engage in activities she disapproves of or that he have a good job or be of a certain social class or have other superficial characteristics not directly related to his ability to dominate a female. She may insist he honor her list of "limitations:" things she absolutely will not do. Such a woman almost always ends up choosing a man weaker than herself (weaker because he is willing to capitulate to her demands) and then becomes deeply dissatisfied with her "sandy hill" male later on when she realizes she can pretty much walk all over him and shape him—with tears, tantrums, and temptations—to be whatever she desires. Think a moment, before you start climbing the hill of service to a man: is this really a man you can respect for the rest of your life? Is he really capable of resisting any attempts by you to control or manipulate him? If you assess this wrongly and you really need to serve, you may find yourself very frustrated later in life when you discover you're the one running this show, and that you're pulling his strings like a puppet.
Step One
Assuming your chosen hill is hard and rugged, imagine now a steep stairway carved into its side. You very much want to ascend this stair because the higher you go, the more intimate you become with him through getting to see and know who he really is. But at the moment, this goal (and he, himself) may seem a bit remote and distant as your raise your foot to climb the first step.
Due to numerous encounters with duplicitous women, a strong and dominant man will typically be looking at the latest female to bow before him rather cynically and critically, no matter what her actual qualities might be. No matter how polite and interested he seems in her, he is going to be secretly wondering what sort of flake has arrived at his doorstep, what she is lying about or carefully hiding from his view, what illusions about herself she'll be trying to spin, and how she will try to turn the power tables on him. He'll wonder all of this because that is what he is used to seeing from woman after woman after woman in his life. A devoted female servant's first step up that steep hill of a strong male's acceptance is to be mature enough recognize that initially he may be a little suspicious and to be gracious enough not to resent that fact. It's important to realize that his careful scrutiny is not a reflection on your potential, necessarily, but rather an indication of the sort of woman he's typically had to deal with during the time he's spent searching for servants. Very rarely does such a man find a female who sincerely wants what she claims to want: to serve him above and beyond all other goals. Normally, the women he meets mouth these admirable sentiments but actually have any number of ulterior agendas in mind.
Should a woman become outraged that such a man doesn't instantly see what a wonderful, glowing treasure she is, it typically means one of two things. One, perhaps her ego doesn't have the right sort of hiking shoes on to be attempting this level of climb. This is the lesser of the two evils because it is something that might be fixed with time, education, and dedication to change on her part. Or two, perhaps she is exactly the sort of unreliable and possibly deranged individual that this sort of man runs into so often but tries his best to avoid. A lot of people drawn to extreme servitude are so attracted because they are incompetent or even crackpots and they've latched onto the idea that living in this seemingly harsh, romantic way is an escape from all the personal-life messes they've created over the years. Anything that seems extreme or exotic always seems to attract the mentally imbalanced, and dominant-submissive relationships are not exempt from this general rule of life. If you are for real, a man's taking it slow is nothing to be outraged over. It's a sign of his caution and good sense. It's a strange and sad reflection on these "females are perfect" times that so many women are insulted when a man like this doesn't welcome them fully into his life after a brief but passionate courtship stage in which he bows humbly before their awesomeness, but instead insists upon a careful, lengthy evaluation of their personality traits. Such women are still thinking in tedious vanilla courtship/chivalry/soul-mate terms about a relationship that is very different from that traditional model and likely from anything they've ever encountered before. If a female tries to cram this sort of exotic, focused-on-servitude relationship into a safe, comfortable conventional-relationship box, she's not going to like the results. She'll succeed at doing so only if the male is a teddy bear in wolf's clothing (a man secretly seeking a conventional relationship with an exotic, cool surface appearance). And then it is likely she will become, after a few years, one of those bitter, screeching harridans who angrily insist on BDSM boards that a master-slave relationship is just like any other relationship and anyone who says otherwise is elitist scum! In her case, sadly, she'll be absolutely right (at least about the "like any other relationship" part) because she and her male counterpart have copped out. Neither one really wanted anything as extreme as absolute servitude and obedience. But the sort of man I am speaking of does want this level of extremity and will politely, quickly, and firmly show such a female to the door if she starts trying to spin the relationship in the safe, warm, flattering, fuzzy-wuzzy terms and practices she is most comfortable with.
A feminine manipulator is in for a great disappointment with the type of man I am describing. He listens to her words, he nods, he agrees, he even praises her for the prettier ones, but when it comes down to determining what she actually is, he looks primarily at her actions to see how they accord with the pretty words.
Thus, in preparing to meet such a man, a sincere woman who's fairly certain she wants to live as a complete servant to a man, should think carefully about this statement: "Enough time" to evaluate me is when he says it is enough, whether that means one week, one month, a year, or even several years. She should also consider that, unlike other relationships she may have had,
she
is the one who is going to be required to jump through hoops and "bow before awesomeness," not him.
Step Two
Unless the man is inexperienced or immature, it's quite likely a woman may not even realize that such a hardcore and realistic evaluation of her nature is going on. He won't be whining about all the terrible women there are out there, he won't be insulting her, nor behaving as if he thinks she's just another tiresome waste of time like all the rest. In fact, talking to a self-mastered man who is capable of mastering others, is, for most women, quite fun and gratifying. She will likely have no idea of how very carefully she is being assessed during his polite phone chats or email exchanges. The experience will be pleasant, smooth, easy sailing in these early stages and even if he's already 90% convinced she's not going to work out, he'll hold out a while to make certain about the other 10%. He'll be very easy to talk to, and he'll casually and most subtly play out more than enough psychological rope for the female to hang herself with, if she's not the sort of woman she claims to be. The second step on the hill of gaining a highly discriminating man's acceptance involves keeping in mind that you are being closely watched on an ongoing basis, even if it doesn't feel as though you are—and not getting too uptight about it. Relax. If a woman actually is what she claims to be and really wants what she says she wants, she need only be herself and all will be well. If, on the other hand, she is pretending to be something or someone she is not, well, she'll likely enjoy herself during the first early weeks, but it won't go much farther than that.
Some women imagine that, with their clever tongues and their ways with words, they can convince any man that they are whatever they want him to think that they are. Some women, perhaps more than you might believe, are absolutely convinced they are smarter, more emotionally astute, and savvier than any man they might encounter. A feminine manipulator is in for a great disappointment with the type of man I am describing. He listens to her words, he nods, he agrees, he even praises her for the prettier ones, but when it comes down to determining what she actually is, he looks primarily at her actions to see how they accord with the pretty words. He gives little credence to her descriptions of who she is and what she can do. Instead, he will expect her to put her money where her mouth is and prove that she can be who she claims to be, not once, not twice, but many, many times. This isn't the sort of proof that she will be able to invent and present to him on a silver-tongued platter, by the way. He'll devise the tests of her true nature, and, in most cases, they will be so quiet and unobtrusive that she will not even realize she's being tested. A person who has been lied to over and over again learns how to find out what he needs to know without relying solely on another's words. Those females who are sincere, those who understand the value of obedience and crave to serve this wonderful man they've just met, will likely pass such subtle tests with flying colors. A few women might realize their behavior is being observed and evaluated against their words but one would hope that, having had to perform similar tests to determine the mettle of the men they have encountered in their lives, they would be encouraged rather than insulted by such a serious inquiry into who they are and what they are capable of.
Steps Three and Four
This can be a tricky phase in the budding relationship with a dominant man. Steps Three and Four come at about the same time. The third step is to not think you're smarter than the man you are trying to impress or convince. So very many women make this mistake. Even sincere women who genuinely want to serve can be guilty of assuming mental superiority because they are so used to running into men who haven't a clue about women or how to handle them. But a female should know (or at least be able to entertain the idea) that an experienced, successful dominant man is a beast of a very different color. If he's an ordinary man, she might succeed at running rings around him like she has so many other men in the past. But if he's an experienced and smart man, familiar with the means of human control and the conduits of power, and if he is looking for a genuine servant whom he can control fully, a woman attempting to outthink him will just wind up looking foolish if she makes the assumption that she can do so. If she is too proud of her own intellect to accept that a man worthy of owning her will be able to mentally outgun her, then she won't know what hit her when her deceptive plans fall to pieces. Her ego won't be able to admit the truth, despite the evidence of her senses, that she's been totally outmaneuvered in this particular chess game.
A lot of women do this: they part ways with a man who has clearly seen what they are and told them the game is up, all the while refusing to admit to themselves that he's seen right through them because, you know, no man is capable of seeing through them so clearly! Sometimes a woman like this will even come back to him and try her same old "believe what I say, not what I do" game all over again. He just might play along—perhaps because she's useful in the moment or her dishonest antics amuse him—and she will never fully realize with what contempt he actually holds her in or how he is using her for entirely temporary pleasures. Such a woman may eventually begin to wonder why, however, she never seems to get anywhere with him.
The fourth step to avoid stumbling over at this phase in the climb is being vain enough to think that you're too good to be extensively tested or evaluated for genuineness. In a sense, this is a replay of Step One: not considering yourself above initial evaluation simply because you know just how good you are. But at this stage, it's the ongoing evaluation that's likely to be resented. Remember that he doesn't know how sincere you are or how obedient you are capable of being. He can't sniff that "Eau de Wonderful" wafting out of a woman's persona nor assume she's just great from whatever she says because most women he's encountered lie extensively (whether to themselves, to him, or  both) about this.
Step Five
For a woman who really wants to obey and serve a man, his own need for caution and taking things slow will make perfect sense to her: the female's opinion of her own specialness won't be so huge that it blinds her to his need to proceed gradually with any unknown human factor in order to determine if she can actually walk the walk. She'll enthusiastically and willingly demonstrate her loyalty, willingness, subservient nature, and her deep interest in him, and she will automatically do so even if she believes the things demanded of her are almost too trivial or unimportant to bother with. This behavior represents Step 5, which has to do with understanding that every command, great or small, issued to her from his lips is a sacred and responsible trust: one that she must demonstrate that she can keep by performing it in the spirit and to the letter expected of her.
"This is nothing," some foolish females think when faced with their first easy challenges or a very minor demand. "I don't have to do this! I'll prove my true value to him when he gives me something more worthwhile or interesting to do, something more on my level." Believe it or not, many women new to submission do not realize that this attitude represents rank disobedience toward the man they claim to respect so deeply and is a good predictor of habitual lackluster "service" or even resistance should they ever be required to do larger things. They don't grasp that the way a female proves herself worthy of great things is in how she performs the little, seemingly insignificant things. Having resentment for being tested at all ("He should just trust me! Can't he see I'm sincere?") or being insulted by the smallness of the test are both mistakes that an inexperienced and unaccommodating female with too large of a self-opinion typically makes. In contrast, a woman highly eager to serve will be content with cleaning the toilet or taking out the trash, if that's all he's assigned to her, as she understands that the fact that she's being allowed to serve in the first place is what  is important, not what specific service she happens to perform. And, while grateful if he pats her on the head and tells her what a good girl she's been, she will not expect a reward or special treatment for her performance. When you are a servant, it's your job to serve. Why should you expect constant kudos or special praise simply for doing what you said you'd do?
Normally, the master or otherwise dominant man will start with a relatively easy order. But a woman may come up with a thousand excuses for why she was late in doing it or why she didn't do it at all. His requests may seem small, but in my observation, these little duties are more often failed or overlooked than any other, because the woman doesn't take them seriously or doesn't find them "interesting" enough. Finally, and this is a serious point to keep in mind, refusing to do the small things is one of those behaviors that tell a dominant man, without a question of a doubt, that he's dealing with a serious level of flakiness in the female who has approached him. She's not particularly concerned with his desires or welfare and this careless behavior, as mentioned before, is a very good predictor of her future actions and attitudes. It suggests that the woman is far to hung up on herself to think about another's needs let alone to care that she is wasting her potential master's time.
Step Five: Variations
"Tis many a slip twixt the cup and the lip," goes the old saying, and while actually carrying out the order in the first place and within the time specified are two important concerns, there are other ways to obey incompletely or incorrectly. Some women, for instance, automatically assume that it's up to them to dictate the "how" of their obedience. Let's say the man she has approached orders, "Send me an email about your history and experience with other dominant men." If she responds, "Sir, I'm far more comfortable with discussing this in person or over the phone," she is disobeying his order. She's indicating that she wants to dictate the terms of her obedience, that she wants to be in charge of how orders are carried out, despite the fact that he's already indicated clearly to her his preferences in this area. This may well fly with a very lenient, laissez-faire "dom," but it won't be acceptable to the type of man I am talking about.
Another common error is to obey incompletely or in an entirely different manner than instructed. The male in charge may order his female to exercise, for instance, for 30 minutes a day, five days a week, and when asked how she did that week, she says, "Oh, I only got in four sessions, but that's because I was super busy at work." He may follow this up with "Well, why didn't you mention that to me earlier in the week, when you got busy?" With a man who is serious about his dominance this question implies that, when under strict orders, unless it is a dire emergency, a good servant asks first before making course corrections or taking matters into her own hands, no matter how "necessary" those corrections may seem to her at the time. Assuming that she had the right to change his orders at her whim and without even discussing it with him first does not suggest she understands much about serving.
Another aspect of obedience that many men well worth serving pay close attention to is how well the female listens to the orders being given. It's an unfortunate (and often hotly denied) fact of life that many women, even those with the best of intentions, have the attention spans of fleas. Such women have trouble concentrating on and really listening to a man's words, and when they only half-listen, their imaginations later fill in the blanks with what they imagine he wanted, not what he actually told them to do. Usually this occurs because the woman is too busy thinking about herself, her own concerns or ideas, and allots only a small part of her attention span to what the man is actually saying. As a result, problems usually arise. She may throw his favorite sweater in the dryer when he told her to let it hang dry—and so it comes out unwearable because it has shrunk. She may neglect to stop by the store on the way home to pick up the cold cuts he wanted for dinner or bring home the wrong meat.  Some so-called "submissive females" compound the initial transgression by becoming angry and resentful when such errors are pointed out to them: "They didn't have smoked turkey at the store and I wasn't about to go to the next grocery in this traffic so he should be glad he got any meat at all!" a woman new to service may mutter to herself, if not directly to his face. Or perhaps, if she isn't living with him yet, she stops writing him the daily emails she is supposed to write every day without fail. And once it's forgotten one time, it becomes much easier to let it slide the next time. After all, he hasn't made any fuss about it, so he probably doesn't notice or care…right? (Don't bet on it.) Sometimes this forgetfulness has a cause: resentment or laziness, for example, but, even if there's no cause, it still indicates a person who is neglectful of her man's desires. She has not made his desires a high enough priority. In a woman with the right attitude, such things can be corrected, but in other females, the corrections only lead to worse misbehavior and resentment. Watching how a woman responds to being corrected will tell an observant man a lot about her core nature.
But how well you straddle the tall sixth step answers an even more important question: are you really in it for the long haul? Do you have what it takes to obey responsibly, dependably, cheerfully, and passionately over time, when things aren't so "new and shiny" anymore?
While the above forms of disobedience may seem commonsense to avoid, no-brainers for those of us with experience or discipline in other areas, they are indications in a new servant of a lot of often-unconscious willfulness that will need to be brought into check before genuine service to the male can be performed. Reducing such willful tendencies is a job both for the female who desires to serve and the male who wants to be served—it isn't something the female should (again, willfully) take upon herself entirely without asking him first how to proceed. Most women who say they want to serve, strangely enough, never even reach the stage of discussing refinements to their obedience. They become angered when a man scolds them for the first time or shows his displeasure at their failing to carry out his orders in the right way. They feel he is asking far too much. (Of course, it stings to be chastised firmly, but a woman who really wants to serve understands that this is part of the package. She sucks it up and strives to be better in the future.) This other sort of woman, the one outraged at being corrected, is not cut out to be deeply submissive, let alone a slave. She often doesn't know this about herself, however and it may take her a long time to get the message, because her ego refuses to sign for it. She may flounce off in a rage, cool down, think about it and then come "crawling back" (in quotes because this is usually just an act that masks a deep, malevolent "I'll make him fall in love with me and then I'll show him!" resentment) asking for a second chance (or a third or a fourth) and, if he is a patient man, he may even give her those chances. But he is now definitely on his guard against her because typically her initial behavior is a clear indication that, no matter how many chances she is given in the future, she will never be able to obey him.
Step Six
Initially, carrying out orders is fun and thrilling for a female who wants to serve. It's brand new, it's cool, it feel so good when she succeeds and he praises her, and the assignments are often interesting ones. But how about later? Weeks later, months later? Is she still going to be obeying this intently and enthusiastically? Will she still be going to the gym every day or every other day, reducing her calories, keeping her house at the level of cleanliness he expects, and so on? A newcomer to service will almost always swear passionately that she will do all of this forever. But not all females have the follow-through to obey day after long day, particularly if the services become routine and unvarying. The earlier steps up the hill give a potential master or dominant man a general idea of whether or not she can obey and to what degree she obeys—at least during a single instance of obedience. But how well you straddle the tall sixth step answers an even more important question: are you really in it for the long haul? Do you have what it takes to obey responsibly, dependably, cheerfully, and passionately over time, when things aren't so "new and shiny" anymore? The way a woman answers this frequently unspoken question with her behavior will tell the man she wishes to serve whether this is a serious vocation for her (something all potential servants swear is true at the beginning) or just a passing fancy, no matter what she claimed earlier. Obeying over the long haul, past the time when she considers it to be a fun game, really separates the dedicated servants from the bored kinky girls just passing their time with something new. There are many ways to perform service-over-time tests, and each man who understands their importance will devise his own. The dominant man who doesn't perform such tests is taking a big risk, as females often do change over time, particularly as they become more comfortable with him and his ways. Being able to observe such changes in a female before she's completely enmeshed in his life is very important. It could mean the difference between long-term happiness or misery for both parties.
Step Seven
At the lower elevations of the hill that a female may have to climb in order to be accepted into a man's service, the general steps of obedience are fairly standard and follow each other logically. But the higher one goes on this hill, the more individualistic the steps get. They start to represent an individual man's specific desires and goals for his servant. The final general step that most females face at this stage in their climb has to do with their level of dedication and passion. In climbing Step Seven, a woman asks herself, "After all I have experienced, do I still want to go through with this? Do I still want to serve and obey this man's every desire, perhaps in very difficult ways, for the rest of my life? Is service to a deserving male the most important thing in my life or are there other goals that are equally pressing, other things I want to do or even must do before I die?"
There are many self-described dominant men and even self-titled "masters" out there who are a lot more lenient than the men I am describing. A more easygoing man may want his submissive female to grow and expand herself, achieving her own personal goals alongside serving him. But the sort of man I am speaking about here will absolutely demand that service to him be his female's first priority. If she cannot put him and his desires above all other things, she won't make the sort of deeply dedicated servant that he desires. A woman who needs various forms of self-fulfillment more than she needs to serve should seek the former out, perhaps alone, or perhaps with a different sort of man, and not expect that a strict dominant male with very high standards for obedience and service will be her personal growth coach.
The Top
The true satisfaction in service comes from the service itself, from the sacrifice it requires and from the love you feel toward the person whose life you are making easier and happier. To some of us, this is a glorious vista to behold and all the reward we could ever want. Other women, if they manage somehow by hook or by crook to reach this elevated height will look around and ask, "Is this all there is? Where's my reward? Where's my picnic at the top, my medal, my accolades, my permission to take it easy and enjoy myself from now on? Just what is in it for me?" I don't think the second sort of woman reaches this rarefied height very often, as it requires tremendous sublimating of her true (selfish) nature to do so, but I have heard about other situations where women struggle hard, reach the top of the hill, are blissfully content for a while, but then later find out that they cannot deal with the consequences of their choice to serve a man completely, no matter what. They change or life confronts them with a challenge their deep love for service cannot accommodate. For example, what if the man that you served intimately in his home no longer wanted to live with you but desired you to keep working for him by generating income at a remote location while he moved a younger, prettier servant into his home? Could you, after so many years in his wonderful company, bear to part ways yet still remain his loyal, steadfast servant, financing his leisurely life with his new domestic slave?  Those few for whom service is the true reward could because in that situation they'd still be serving him,  still be making him happy, just in a different capacity.
Sometimes a change of heart in a woman comes about due to illness in one of the parties or some other serious life change that requires her to cope with frightening new circumstances. But at other times there is no shocking change. Sometimes a woman just grows restless, dissatisfied with her life. Service no longer seems like the ultimate reward it once was, the best thing to be doing in life, the most fulfilling role possible for a woman. She's been there, done it, and now she's bored.  Or, to put it another way, she loses touch with the sacred thread and, like poor Icarus, starts to fall back to earth and its beguiling call. Something in her cannot remain dedicated to the course of service and she breaks away because she needs to "fulfill other aspects of herself." I have seen this happen with several women who formerly lived as slaves. It is tragic to observe. With each person I have seen this happen to, she ended up far less happy than she would have been if she had stayed the course, selflessly serving another with no thought for her own "personal fulfillment."
A lucky few do stay the course. We live a life of service to a strong man until we die because have tasted the endless pleasures, puzzles, and fascinations that life has to offer and found them all to have a bitter aftertaste, somewhat hollow, and lacking something essential. They didn't contain the nutrition we needed, a certain flavor or quality was missing. Only intense, self-sacrificing personal service to someone we love gives us that taste of heaven that we so long for. And so we remain, unless ordered otherwise, atop the hill of abject servitude to a man. The view of the glorious, dark heavens around us, I must say, is most exhilarating.