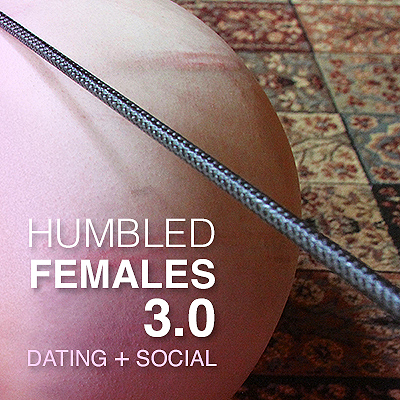 Spring has sprung, and with it, some seismic changes at Humbled Females. For the first time since its reboot in 2012, Humbled Females is now a completely free experience. The articles, media, Primer, and access to the full functions of the site are everyone's to enjoy.
Why have we done this? The short answer is we can. As for the long answer: Humbled Females finds itself in a bit of an odd place on the Internet, which hasn't exactly allowed it to thrive, financially speaking. We are adult, but our subject matter is considered untouchable in that it is an anti-feminist space We are also pro-male and advocate actual master-slave relationships, unlike what you find anywhere else on the Internet. We are one of a kind for a reason, and that is, among other things, the simple fact that no one wants to touch the subjects we discuss here. Not seriously, at least. People certainly love kink. They enjoy the sensational world of fetish and alt sex activism. We have nothing really against these things, but they have little to do with who and what we are. Our message is different, standing free of the progressive and pro-sex work mission creep we tend to see in the online BDSM collective, which has become a sexual marketplace for fetish models and a bootloader for OnlyFans actresses. And that is why we are decidedly not the coolest kids on the block, so to speak: we aren't playing that game. We're focused upon deeper things, minus the poisons of the day—but of course that's the entire point of our community.
Our path has always been different, ever since we started Humbled Females in 2005 back in the days of Livejournal. We prefer reality over artifice and passion over consumable politics. We've built a large forum of discussion (archived since 2012 when the site was revitalized) on the subject of consensual male dominance and female submission. We have written numerous articles that offer plenty of straight talk and insight about the psychological physics of dominance and submission and master and slave between heterosexual (and heteronormative) males and females. Alongside that remains a library of media provided to entertain, inform, and inspire. All of this was done and, with the exception of the adult media, will continue to be done without sliding into religious fundamentalism, going woke, right-wing political extremity, or Castlerealmic BDSM fantasy. There is no one like us online. You are part of an incredible and authentic online community that is now, in our eyes, "too big to fail." And much of that success is due to our members, especially the ones who have been with us since the beginning.
But more good things are in store this spring and summer. We are going to be refreshing our forum and tools here with a pure code rewrite, getting us away from limiting software frameworks and allowing Humbled Females to be customized any way the membership wants. Things we currently have in mind are: member search features according to region, orientation, age, etc., better private messages, more options for profiles, and likes for forums comments. The site's visuals will be slightly adjusted and enhanced in the process as well, allowing for a better mobile or desktop experience.
So, all around good things for Humbled Females in 2022! Check back regularly to see the new features as they emerge.