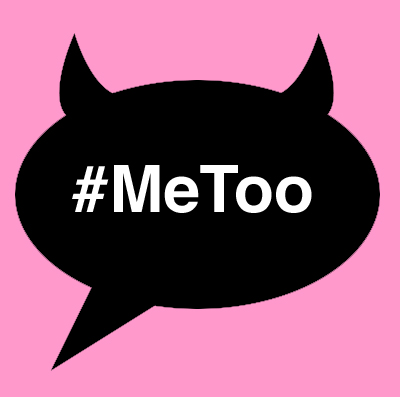 No matter where one may reside on the sociopolitical spectrum, I believe everyone can agree that the Harvey Weinstein exposé had beneficial effects. It was a watershed event, uncovering the hypocrisy living right under the noses of the typically left-leaning Hollywood elite, where sexual predation upon ambitious actresses turned out to be one of their biggest "open secrets." Weinstein apparently paid off sexual harassment accusers for decades while continuing to run his media giant, the Weinstein Company, but social comeuppance eventually caught up. It's satisfying to see a rich, powerful hypocrite brought down a notch over his lecherous buffoonery. Predation enjoying impunity due to its power, status, or political hypocrisy is something most sensible people can find common ground to reject.
But as reports of sexual misconduct accusations rippling and ricocheting across Hollywood and Washington become an almost daily event, it seems the rhetoric of the Me Too movement has gotten a bit out of hand, infecting the political and corporate world with a strange brand of witch hunting neo-puritanism that colors men as predators and women as victims in need of swift protection. At this moment in time, the increasing lynch mob that is Me Too sees the slightest gesture of sexual or romantic interest in the workplace as grounds for intervention, if not inquisition. For most reasonable human beings, this should be a concerning spectacle, as most people have accrued at least a few skeletons in their closets during their lifetimes. The climate today now has many men and women alike wondering if their sexual improprieties will crawl out of the woodwork and lead to the loss of their careers and jobs. It seems that minor sexual inferences—even ambiguous transgressions—are now fertile ground for indignation and harsh corporate review, no matter how long ago they're purported to have happened. And far too many now accept the rightness of it all as a foregone conclusion.
Whether the reported acts or events are given mature objectivity, much less anything resembling due process, seems entirely irrelevant for the movement at hand: if a woman points a finger, there is a moral imperative now to believe her, or else we're conspiring agents of what Natasha Lennard might robotically regurgitate as the "system of domination and patriarchal hierarchy." To believe a rape or misconduct allegation is now synonymous with "believing women" as a whole. You're either all in with the absolute victimhood of women or out of touch. How did we get here?
A much earlier "Me Too" movement was started over a decade ago by feminist Tarana Burke, with the intent to empower black women who were sexual assault survivors. Today, celebrities like Alyssa Milano and Rose McGowan (an alleged Weinstein victim) have given the Me Too movement greater visibility with perhaps a well-meaning push, resulting in the now popular #MeToo Twitter tag. Time Magazine just named all the "silence breakers" of the movement the #1 Person(s) of the Year, in fact. So, like it or not, the politics of painting women as victims has been given yet another new lease. True, occasional men are mentioned as so-called silence breakers as well, but the real driving force behind the movement seems quite obvious: to unseat powerful men from positions of influence and respect in media, journalism, state leadership, and the corporate sector under the pretense of showing the world how many hidden victims there are of male sexual abuse, despite complex matters of consent and complicity in so-called victims, or the misinterpretations of honest mistakes of judgment.
What the hell is happening? We now live in a country where people lose their jobs when accused of something without proof or trial or in some cases with anonymous accusers? —Kristy Alley
The idea that women are always innocent and need special protection in the workplace from sexual innuendos and ribald humor isn't new; it far predates Me Too, but with this movement, the polarizing rhetoric, especially in a neurotic culture of microaggressions and victimhood, has increased tenfold. Take, for instance, the incendiary declaration that anyone who questions the validity of misconduct allegations is a "victim shamer." No one wants to catch that bullet in our politically correct climate today, especially businesses and high-profile individuals. But not every celebrity with a vagina is on board with the witch hunt. Actress Kristy Alley irreverently asserted that it's madness for people to lose their jobs over anonymous allegations. "What the hell is happening? We now live in a country where people lose their jobs when accused of something without proof or trial or in some cases with anonymous accusers?" the actress tweeted.
During a Q&A prior to the 20th-anniversary screening of the film Wag the Dog, comedian and political commentator John Oliver pestered Dustin Hoffman on stage in front of a live audience over recent allegations levied against the actor. Hoffman was beside himself over having to defend against Oliver's surprise attack indictments. "The so-called alleged comments that are made are truth now," Hoffman angrily stated while managing to keep his composure, "and if you try to defend it, you're guilty." Oliver remained visibly unsympathetic, sucking the air out of the room for more than thirty minutes as the other guest speakers and audience members remained awkwardly silent, until eventually someone shouted at Oliver to move on. (He didn't.)
In a discussion over the subject on Twitter, a starry-eyed fan commended Mr. Oliver for his bravery in confronting the actor. I found her take on Oliver's abusive badgering tone deaf, as bullying someone while riding on the wave of politically correct outrage over the sex scandal du jour is hardly something I'd consider noble, much less brave. Many religious tribunals, medieval rabble rousers, and inquisitors have come before him. What Oliver was really doing falls easily under the category of grandstanding to court controversy by putting due process on the chopping block in favor of politically motivated delirium over women, sex, and propriety.
These are, by no means, new subjects. At a time when a tidal wave of righteous anger is riding high, it's easy to go along with the crowd and kick smeared male CEOs, actors, and politicians in the proverbial balls, even if the accusers are anonymous and facts immaterial. Indeed, the heads of the accused are rolling in the court of public opinion. People are losing their jobs and being defamed, in some cases over allegations made by faceless sources. Decades of activism have lead us to this moment of vindication for feminists who have long insisted upon and decried the ubiquity of "rape culture." But rest assured there will likely be a reckoning for the hysteria of framing an aggressive flirtation or unwanted touch with grotesque lechery, wanton abuse of power, or even rape.
Were I a feminist, I'd feel a little uneasy right about now. Politically supported scandals born of whisper campaigns and anonymous accusers that destroy careers and leave reputations in tatters can result in counter-strokes we can't anticipate, one emerging example being the new standard of evidence legitimized en masse of late: accusation sans evidence commuted to trial and execution by social media. It's validating for them now, but might not feel so good when the shoe is on the other foot. Nonetheless, the precedent has been set, and what's good for the goose may be good for the gander, later on down the road in some shape or form. It also remains to be seen how far we're willing to take the disease of political correctness and to what depths certain groups wish to harness it as a tool of control and discord will sink to. Finally, after the party is over, how many of these accusations will turn out to be rubbish? What retaliations will emerge against this new culture of shaming and vilifying men? How will this change the structure of the workplace? Might #MeToo backfire and result in less women being hired in sensitive positions? That all waits in the wings for those currently celebrating this viral spectacle of revenge politics.
Me Too has realized feminism's dream of causing real harm to men under the religion of helping victims—real or imagined. Due process is clearly an afterthought and not on the agenda.
I can't help but wonder what will arrive next in the wake of this crusade, though in all honestly I needn't to wonder too long. It strikes me as no coincidence that the desired targets of Me Too have been the usual suspects: powerful males. This turmoil all too cozily serves the agenda of extreme feminist politics mewing about the evils of patriarchy's imaginary power and dominance. We know that what modern feminism wants is the destruction of this sacred MacGuffin in its increasingly metastasizing conspiracy theories. More clearly, it conspires to injure maleness and make that injury fashionable, desirable, and now morally necessary. Already, feminist icons are suggesting a shift in the sexes for better leadership, so as to avoid things like this from happening. Facebook executive Sheryl Sandberg has gone on record for describing her solution to the male problem. "Ultimately, the thing that will bring the most change to our culture is the one I've been writing and talking about for a long time: having more women with more power," she posted.
Sandberg's claim is hopelessly blinkered. She seems to assume that giving more women power is the cure-all, that it will steer our culture from scandal, corruption, and harassment. In between the lines, this claim asserts that the abuse of power is a male problem, but in reality, it's a human problem. Though I realize it's sacrilegious to imagine a female engaging in workplace harassment, it does happen. If you don't believe me, click here and here. And here's something that reflects well upon men, but is seldom (if ever) spoken about: the reported percentage of women engaging in "misconduct" is actually much higher, as males who encounter female aggression, sexual or psychological, are generally less apt to complain about it. But Sandberg's comments don't seem to want to recognize women as anything but victims in need of the same old formula: empowerment, ad nauseam. Viva la revolucion.
Me Too has realized feminism's dream of causing real harm to men under the religion of helping victims—real or imagined. Due process is clearly an afterthought and not on the agenda. This isn't anything new for feminism, as a whole, for it has always carefully harnessed victimhood for the sake of aggrandizing its agendas. In a response to the power it perceives as the root cause of evil, it too has created its own powers, attacking males and maleness by fighting perceived structural darkness with its own counter-structural darkness under the distorted assumption that a "bold, scandalous feminism" is more effective at obtaining the standard of justice it seeks—even if that standard is impossible to attain. But such unrealism is not unusual for a religion. Religion, as a rule, sets impossible goals for its followers, and feminism increasingly feels like a religion based upon a struggle against a mythical organization of boogeymen, not a rational response to matters of corruption and power in human societies. Feminism and its adherents nonetheless aggressively cut through the irreducible complexities of human nature with a blunt, rusty razor they imagine is Occam's, but this is a brand of idealistic and destructive naivety that is now causing serious material harm.  Absent a Neo-Marxist totalitarian regime that socializes the male sex into second-class citizenry (and don't dare doubt that many would absolutely go for that), feminism's dream of an ideal world where all women are perfectly protected by a maternal government will never be realized. Human nature is an animal one. It's messy, complex, and couldn't care less about the screaming indignation of political movements based upon idealistic fantasies. Humans, both male and female, will use power to their advantage. Being sexual creatures, humans, both male and female, have the natural capacity to exploit the intersections of sex and power, and will. Short of Orwellian thought control that stunts our drives and desires, our species will countlessly commit these brazen, daring, and sometimes outright aggressive acts. Swapping men out with women won't change these facts, or the reality that romantic/sexual interests can't be safely walled off from the workplace. Our real goal should be to create mechanisms in the workplace that prevent gross abuse of power, not wage an open, opportunistic war against the male sex.
12-07-17: Updated to add that Senator Al Franken, a man I admire greatly for his stance on net neutrality and mandatory binding arbitration, has been pressured to resign from his seat due to (you guessed it) unproven allegations directed toward him. I invite you to watch this video and find reason to believe he's not a good advocate for women. Nonetheless, he has been pressured to step down, despite zero evidence of any real wrongdoing.
12-08-17: Updated to add that signs of the backlash mentioned in this article have already begun. Click here to read more.